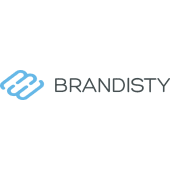 "The product that wins is the one that bridges customers to the future, not the one that requires a giant leap." – Aaron Levie, Box Co-Founder & CEO
Before Dribbble and before the Rocketship podcast, Michael Sacca was the co-founder of Tiny Factory, a web development firm based in San Diego. As designers and developers working with dozens of clients, they often had to use digital asset management tools.
At the time, most of the tools on the market were geared towards enterprises with long-term contracts, and had monthly licenses north of $500. Because there weren't any products serving the low end of the market, Michael and his team had the idea of creating Brandisty. The strategy for Brandisty was to go for volume, helping teams store and access brand assets at a lower cost (~$25 per month).
Right from the start, Michael began doing interviews trying to understand customer struggles and find use cases. Over the course of a few months, he had done well over 150 interviews. Through these discussions, Michael and his team were able to identify key pains: internal sharing, exporting files, dealing with varying requirements, etc. These were clear pain points that Brandisty could address.
What Michael and his team didn't validate at that stage was how much people would be willing to pay for their product.
It turned out that smaller businesses were okay with designers manually exporting the assets.
What Happened to Brandisty
In Michael's words, "The pain point wasn't enough to get mass adoption". Because it was priced low and they were bootstrapping the product, they weren't able to build fast enough to compete. They tried changing the target, targeting agencies (those managing and creating the brands), startups, and mid-sized organizations.
Over time, they ended up working with Groupon, a large Danish TV station, and several other organizations, but as their customers grew in size, their expectations also increased significantly. Customers now wanted integrations, multiple hierarchy tier management, quarterly billing, etc—a lot of features they hadn't planned on building.
Eventually, Michael and his team realized that the reason why digital asset management tools existed at enterprise level was that it was only at enterprise level that there were there enough people who felt the pain and were willing to pay money to fix it.
One after the other, competitors came to the same realization.
In the end, Michael and his team failed to generate enough revenue to compete and sustain the business.
– –
This post in an excerpt from Solving Product. If you enjoyed the content, you'll love the new book. You can download the first 3 chapters here →.