"Be wary of feedback that contradicts reaction. Lean in close and watch how people use it." – Jake Knapp, Author of Sprint
It can be a good idea to launch your product without a self-serve mode, as Brennan and the team at RightMessage did.
Not only will it cut development time, if you can drive traffic to the product, the added friction will help weed out the tire kickers.
Prospects who are willing to invest time to use a product are showing signs of interest. If a prospect isn't willing to go through a product demo or a setup process to access a product, they may not be that interested.
The idea then is to use the demo to:
capture expectations before first run;
evaluate how well the product matches their expectations; and
unearth constraints, issues, and objections.
How to Organize a Product Demo
You can conduct these sessions face-to-face or via video using conferencing software. It's better to do one-on-one sessions so you can make sure you're learning about the specific person's needs and challenges, not a mix of his or her team's take on the topic.
It's also a good idea to create an account for them beforehand, sharing the login credentials by email at the time of the meeting. This will help simplify logistics.
Before diving into the product, it's important to understand why they 'hired'—or were hoping to 'hire'—your product. What Job are they trying to get Done?
Understanding The Switch Timeline
Switch interviews, developed by Bob Moesta and Chris Spiek, are the ideal tool for this type of research. These interviews can be used to improve a product, or to create more demand for it.
Switch interviews focus on a single story—in this case, the story of how they realized that they had an unmet need and discovered your product.
You're trying to recreate the timeline leading up to using the product:
First thought: The initial moment when a change is needed.
Passively looking: The prospect notices options, but isn't actively seeking change.
Actively looking: The prospect starts investing time and energy into finding a solution. The second event transitions the prospect into making a purchase decision.
Deciding: The prospect weighs alternatives. This stage ends with a purchase decision, or the act of signing up.
Consuming: After signing up or making a purchase, the user uses, and ideally gets value from the product.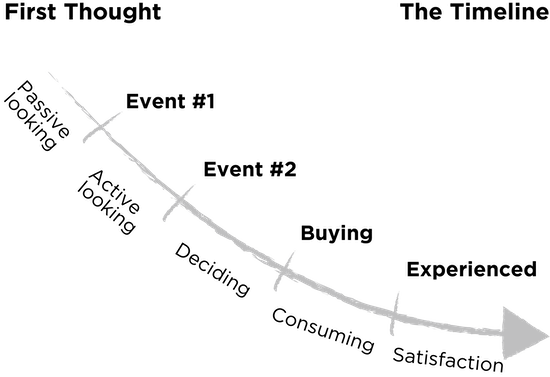 Sample Script for Switch Interviews
A sample script could look something like this:
When did you first realize you needed something for [ Job to be Done ]?
Tell me about how you looked for a product to solve your problem.
What kind of solutions did you try? Or not try? Why or why not?
Before you [ Signed up / Purchased ] did you imagine what using the product would be like?
Did you have any anxiety about our product? Did you hear something about the product that made you nervous? What was it? Why did it make you nervous?
These questions will help you understand the gap that users are trying to address (first thought), the options that they considered, whether they are seriously looking, what their evaluation criteria are, and if there was anything that prevented them from asking for a demo.
You can then let the users log in, configure their account, and explore the product for a few minutes.
As they're using the product, try to understand whether the product matches their expectations:
Was that what you were expecting?
What problem do you feel [ Product ] addresses?
How does it compare to [ Competing Solution ]?
Ask open-ended questions. Learn from both what they say and what they do.
Don't ask them to 'think aloud' or explain what they're thinking. If you do, you won't get natural behaviors.
If they haven't purchased the product yet, consider trying to close the sale.
There's a lot you can learn from similar discussions. After the product demo, track their use of the product and evaluate the match between their expectations and their actions. Follow up after a few days if they're not using the product to address the needs identified in the switch interviews.
– –
This post in an excerpt from Solving Product. If you enjoyed the content, you'll love the new book. You can download the first 3 chapters here →.