"Innovation is insights put into action." – Stephen Inoue, Investor
As businesses grow, the types and amount of customer data that they generate usually start to grow exponentially.
This creates both a challenge and an opportunity. The better you can make sense of your data, the smarter your organization can become.
It's a good idea to set up processes for categorizing learnings, insights, and customer feedback.
As an organization, it might make sense to dig systematically into every issue raised, and to add context like:
How often does this issue happen?
At what frequency?
What kind(s) of users or customers provided the feedback? Are there patterns in terms of roles or personas?
How many people are affected?
How costly is the issue? Can it be quantified?
What are people trying to achieve? What's the Job to be Done?
What's at stake? What happens if the issue goes unresolved?
The reason why companies rarely do this is because it's very difficult to centralize data in a way that makes it usable.
Companies often use different tools to manage different parts of the customer journey (Zendesk, Intercom, Facebook, etc). This makes it difficult to get a central view of all customer interactions.
Creating Actionable Customer Insights
For information to be useful and actionable it has to be:
easy to access;
easy to consume and analyze; and
Felt.
Ultimately, you should start with customer data that you can retrieve. This might include:
Support tickets
Social media messages
Text and video chats
Email clicks and responses
Product reviews
Sales and support calls
Ad clicks and intent data, etc
Start with information that you're able to collect. You can create a system of records using a CRM, a specialized tool like productboard or Canny, a Trello or Notion board, or a simple spreadsheet. The important thing is to centralize the information and make it easy to query by all team members.
Companies like Drift have taken this a step further. The information that they collect is fed into a machine learning algorithm which analyzes hundreds of inputs in order to make recommendations.
That data can then be used to make customer experience improvement predictions, and in turn to create a real competitive advantage for the organization.
Centralizing Data with a 'Feedback River'
Sachin Rekhi, founder and CEO of Notejoy, also recommends creating what he calls a 'feedback river'—an open channel for anyone who is interested to get direct access to primary feedback on the product. It's a strategy that he's used both at LinkedIn and Notejoy.
The general idea is to create a central place where all feedback collected by the company gets funneled. It can be a Slack channel, an email group, or any other place that makes it easy for team members to access the information.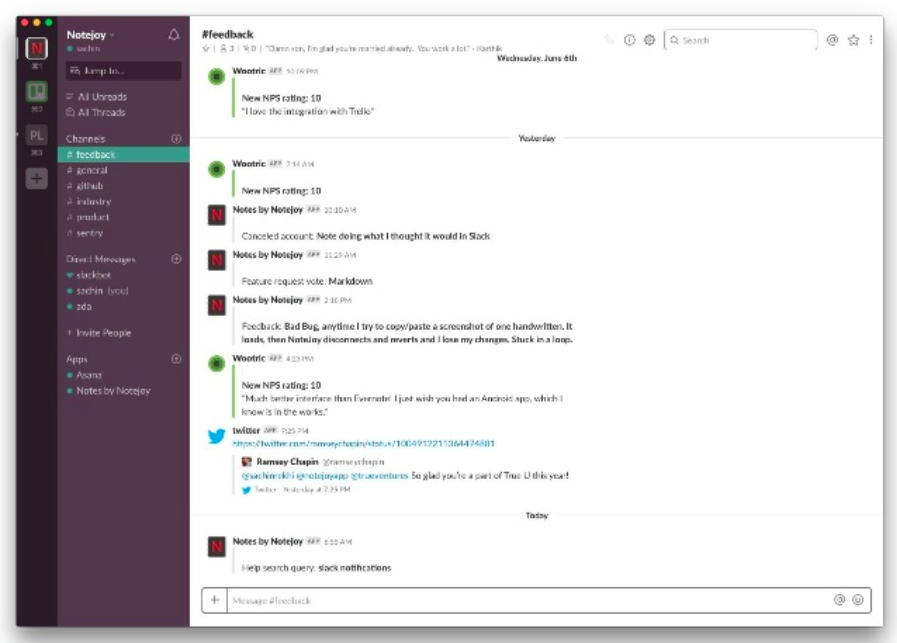 At Notejoy, the feedback river centralizes:
NPS ratings;
Account cancellation reasons;
Search queries in the help center;
Feature request votes;
Feature request comments;
Social media mentions;
Support tickets; and
Contact form messages.
You could also imagine:
Product reviews;
Bugs and app failures;
Chat messages, etc.
Consider adding anything that helps you or your team get a feel for the customer experience. As Sachin says: "What's great about this is that you're continually getting feedback from your customers every single day." It's instantaneous and constant. Team members can really get the pulse of the product.
You can learn more about Sachin's thinking in the video below:
Although customer feedback shouldn't be used to directly dictate the product road map, it should definitely inform it. Create actionable customer insights and let it inform your team's decision-making.
– –
This post in an excerpt from Solving Product. If you enjoyed the content, you'll love the new book. You can download the first 3 chapters here →.